A/V Services
Experienced and Affordable
For over 15 years CPN Audio Visual has provided state-of-the-art audio-visual equipment rental and exceptional service for all size events. Our specialty is in small to medium size events for business presentations, schools, and churches, though we often produce larger productions that require more elaborate staging and lighting. As a small business, we believe in taking care of our customers from start to finish. Our knowledgeable, experienced staff is on hand throughout your event to ensure smooth operation and resolve any last-minute requests or modifications on the fly. Special products and awkward spaces are all met with a smile. We usually beat in-house AV rentals in both quality of service and price!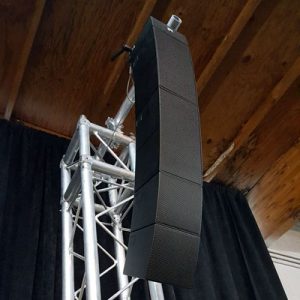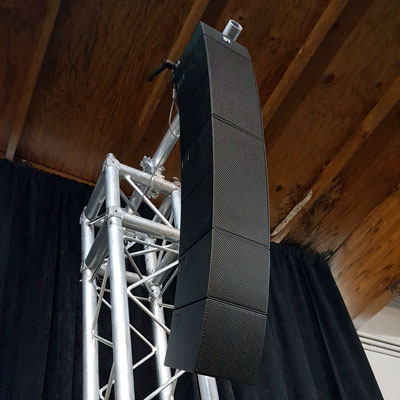 CPN Audio Visual offers a full range of audio equipment and technicians to run it. We have a variety of microphones, mixing boards, and speakers to make anything from a school gathering to a large gala event sound good. We continually stay up to date on the latest equipment and have some of the most cutting-edge products to help make your event successful.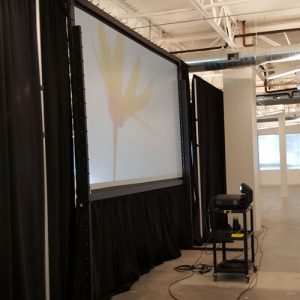 Not only does CPN Audio Visual have great audio equipment but we also provide sophisticated video projection to suit everything from a small meeting presentation to a televised keynote speaker. With super-bright, short-throw projectors, and mixing-routing software we can project in tight spaces or broadcast video to an array of screens. We will deliver your event clean, clear, and colorful.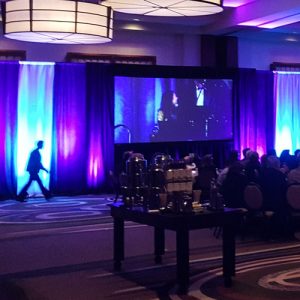 Add some lights and make your event more powerful through dramatic lighting. Even simple lighting can give your event a professional dramatic look. CPN Audio Visual can provide stage cross-lighting, uplighting, area washes, and many other types of lighting effects. Whether for ambiance in and around the event or specifically for the stage we will make your event special, classy, and impactful with lights and lighting effects.
Save money on your AV rental needs.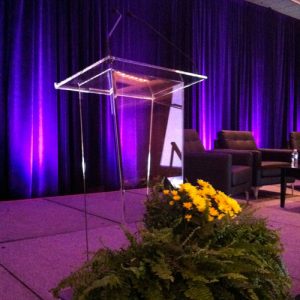 Regardless of the size of your event, podiums give your presenter confidence and help them stay organized in front of your audience. We have many styles, from classy to high tech to suit the style of your event.
View Gallery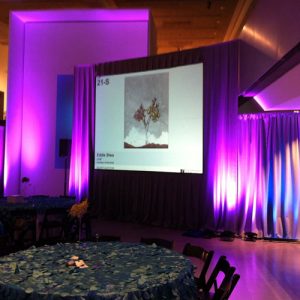 Let CPN Audio Visual put the finishing touch on your event with drapery. Drapery is an easy effective way to draw attention to your presentation and remove distractions. With several styles to choose from, we can dress your event up with black, white, gray, silver, or blue drape.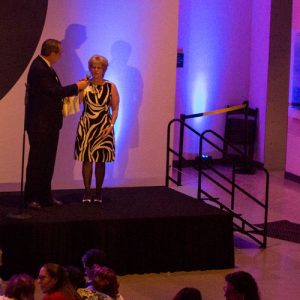 Our stage platforms are highly durable and assembled to order for every event, large or small. All our stages come in heights up to 24 inches and are modular so they can be configured for any environment. We always dress our stages with pleated black skirting for style and unobtrusiveness.
Let us help you enhance your event.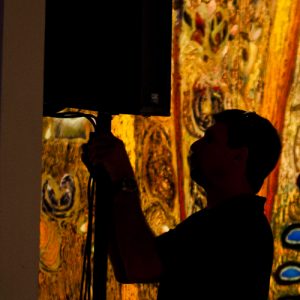 Our seasoned set and strike technicians will arrive well before the event takes place, set up and resolve all last-minute requests within reason, then break down quickly at the end of the event. CPN Audio Visual provides you with trained technicians throughout the event to ensure your event executes with great service from conception to production. We will make sure reasonable requests are met in a timely manner.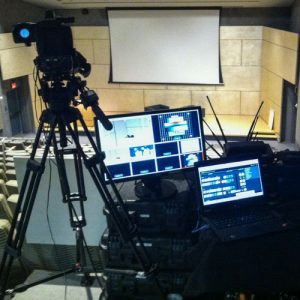 CPN has seasoned video technicians available for recording, multi-screen projection, and even broadcast. Our technicians can assist your presenters and video production companies in all manner of signal routing, transition effects, multi-camera to multi-screen, and recording.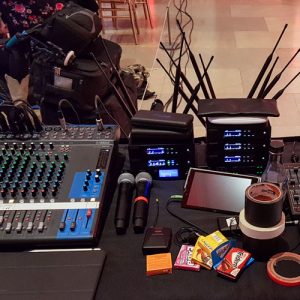 Breakout Technicians
Depending on the size of the event we can provide breakout technicians to check in on the needs of your breakout and dinner functions. No matter how small the meeting, it is of utmost priority to our staff to meet all reasonable requests. Our technicians can assist presenters with a laptop, projector, and screen coordination. We can also help you with PowerPoint adjustments, video playback, and microphones.
Call or email us today.